Top 10 Cannabis Beverages in Canada 2020 (with THC or CBD)
Cannabis drinks are probably the most enjoyable way of consuming weed during the warm season. You can consume them in every public space, including indoors, and you can consume them discreetly, without attracting unwanted attention.
Cannabis beverages have come a long way. A few years ago, every cannabis drink you could get your hands on tasted like bong water. But nowadays, cannabis drinks are refreshing and delicious.
Without further ado, let's take a look at the top 10 cannabis beverages in Canada.
The 10 best weed drinks in Canada in 2020 (containing THC & CBD)
1. Deep Space by Deep Space
Deep Space is a potent drink that's ready to send your mind into… outer space (pun intended). Each 222 ml can of this cannabis beverage contains 10 mg of THC.
The THC in this drink is extracted from sativa-dominant cannabis, which means it will produce a mind and body high. Thanks to a process called nano emulsification used in the production process, your body absorbs Deep Space's THC molecules quicker than those in other edibles.
As a result, the drink will probably start affecting you in about 10 – 15 minutes, as opposed to 20 – 40 minutes, as other edibles do.
Deep Space tastes like cola with a bitter finish. It's an interesting taste profile, but it's not one people go crazy over. You should drink this beverage over ice for optimal taste.

2. Houndstooth & Soda by TWEED
TWEED's Soda water is infused with Houndstooth cannabis, which is a sativa-dominant strain. Each 355 ml soda can contains 2 mg of THC and up to 1 mg of CBD, as well as botanical terpenes.
One interesting fact about this drink is that it's diet-friendly. The beverage doesn't contain any sugars and fats, and drinking an entire can of soda will only add 3 kcal to your food intake. So it's a great option for those who want to consume cannabis without consuming calories.
The drink has a light floral aroma and a light taste of cannabis. Flavour-wise, the drink has a faded front cinnamon flavour that covers the cannabis taste, which makes it surprisingly tasty. The beverage has enough fizz to be pleasant on a warm day, but not enough to make your nose itchy when you drink it.
Thanks to its natural terpene flavours, this drink is tasty and would probably work well in a cocktail.
3. Grapefruit THC by Houseplant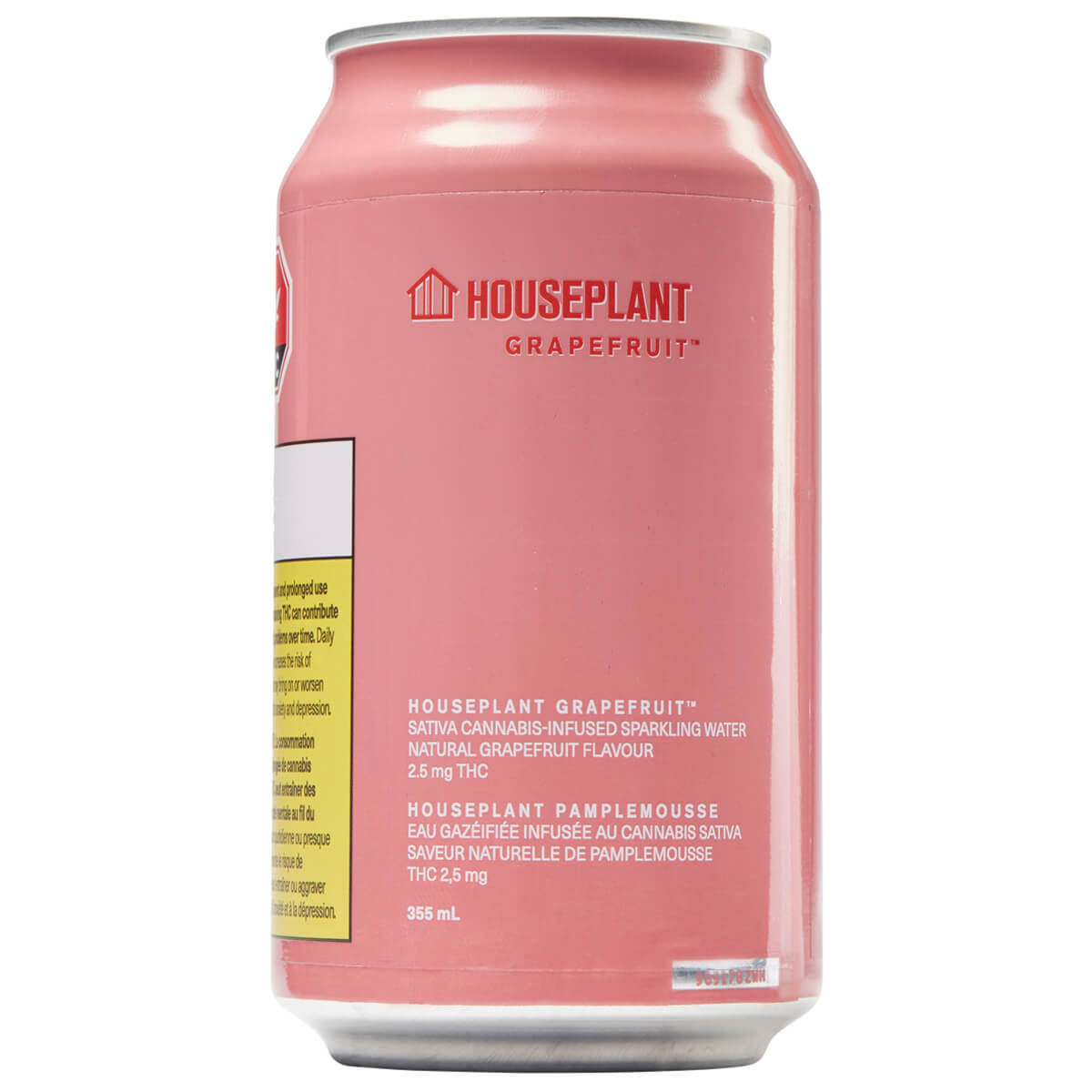 The Grapefruit THC sparkling water by Houseplant is a refreshingly tasty beverage that produces a mild, low-key high. Each 355 ml can of sparkling water contains 2.5 mg of THC, making this drink the ideal choice for novice users.
Flavour-wise, the drink tastes pretty great if you normally enjoy grapefruit or grapefruit-flavoured drinks. The beverage is refreshing when served cold or on ice, and it could be a great choice to quench your thirst on a warm summer evening.
The taste of grapefruit is rich and powerful, and the beverage doesn't have a lingering cannabis aftertaste.
Since the drink only contains 2.5 mg of THC, it won't give you a strong buzz. However, this quantity of THC could make it easier for you to smile 🙂
4. No. 450 Drift Tea by Haven St.
The No. 450 Drift tea is a premium cannabis drink you can prepare yourself. This tea is specially designed to help you relax before going to sleep, so it will produce a mild head high.
Each tea bag contains 10 mg of THC and 5 mg of CBD. The tea usually hits you within 30 – 40 minutes, but one hour can pass without noticing any effects, depending on your personal tolerance and metabolism.
As far as taste goes, this tea provides a tasty mix of fruit and chocolate, with a mild chocolate aftertaste. You can add milk or sweeteners to enhance the tea's flavours.
5. Lemon & Lime CBD Sparkling Beverage by Everie
Everie's Lemon & Lime CBD beverage is a refreshing drink that's infused with 10 mg of CBD and contains only trace amounts of THC (up to 0.05 mg of THC). The drink is sweetened and it has a pretty good taste. You should serve the drink chilled and/or over ice for the best experience.
Now, this drink doesn't contain enough THC to get you high, but it contains 10 mg of CBD, which is enough to make you feel relaxed and cozy. The drink is fizzy and packs quite a sugary punch. People who are unused to consuming a lot of sugar at once might be tempted to water it down.
Flavour-wise, the drink tastes like lemon-lime popsicles, so it might bring forth some childhood nostalgia if you ate a lot of popsicles as a kid.
6. Dissolvable THC Powder by The Green Organic Dutchman
The Dissolvable THC Powder is a quick and easy solution for those who want to drink THC but don't necessarily like the cannabis drinks available at the moment. Each pack of powder contains 10 mg of THC.
This powder is easy to mix with your drink of choice and give it intoxicating qualities. The powder has a mild taste in water or soda water, but the taste is undetectable in flavoured drinks.
As far as the high it produces is concerned, most users report that the powder's effect is similar to that of other 10 mg edibles. For most experienced cannabis users, the high could be described as mellow but long-lasting.
7. THC Citrus Water by SUMMIT
The THC Citrus Water is a good option for novice cannabis users. This citrus-flavoured sparkling water has no taste or smell of cannabis but it can relax you on a warm summer evening.
Each 355 ml can of THC Citrus Water contains 2.5 mg of THC, so drinking an entire can won't produce dramatic effects. However, the high you get is mellow and pleasant, and thanks to the nano emulsification process used in the production cycle, the THC will affect you fast, usually within 10 – 15 minutes.
As far as the drink's taste is concerned, this product has a pleasant and refreshing lemon taste. The beverage is not too sweet and it has a mild citrus flavour, making it a great choice for when you want to cool down.
8. Happy Hibiscus Tea by The Green Organic Dutchman
The Happy Hibiscus tea pack contains 2 bags of premium, organic-certified tea. Each bag of tea contains 5 mg of THC.
As far as the tea's flavour is concerned, this drink is delicious. The cherry-red flavour balances the hibiscus and bitter mate, and the orange peel and sweet cacao give the drink a delightful aftertaste.
Since each bag of tea contains only 5 mg of THC, the tea does not produce a powerful high, even for novice users. However, the THC content could help you relax and feel better after drinking your tea.
9. Mango Passionfruit by Everie
Everie's Mango Passionfruit sparkling beverage is an incredibly tasty and refreshing product. This drink is fizzy and it can bring forth a state of relaxation.
Each can of Mango Passionfruit beverage contains 10 mg of CBD and traces amounts of THC, so it will not get you high. The sweet taste of mango is perfectly balanced in the drink, so it's a great option for warm summer evenings.
You should serve the drink chilled or over ice for optimal taste.
10. Rise No 550 Tea Bags by Haven St.
Just as the name implies, the No 550 tea is a cannabis drink you have to prepare yourself. Now, as far as teas go, the 550 is quite a tasty one.
The 550 tea has an overall fruity taste with a mild berry aftertaste. There is no trace of cannabis in the flavour, which makes this drink ideal for those who dislike the taste of weed.
This drink produces a relaxing high. Since the tea is produced using a sativa-dominant hybrid strain, it produces a full-body high that can linger for a long time after consumption.